This weekend I had the privilege of being Best Man at my buddies Gav and Jane's wedding.

I can honestly say I haven't been that nervous for an awfully long time – but my speech seemed quite well received in the end.

It was a fantastic day and I was pleased I could play a small part in making it such a success (a very small part it must be said).
The night before, we went for a curry at The Ghandi, about 15 years after I had my first ever proper curry there, also with Gav – then we had a Sambuca as used to be tradition:
And the next morning, Gav spent some time contemplating his fate:
Because Gav and Jane sometimes look like this:
But often they look more like this: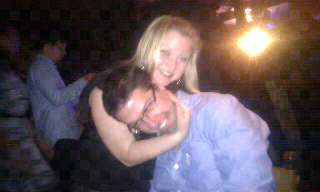 I'll put up some photos of the actual wedding when I have a chance.